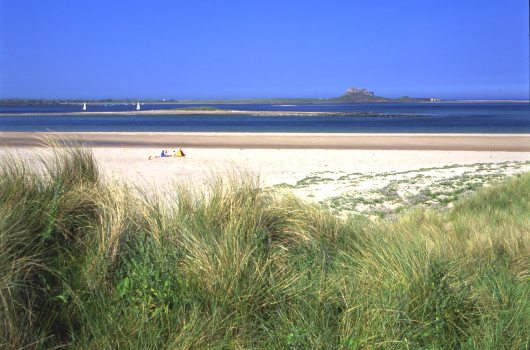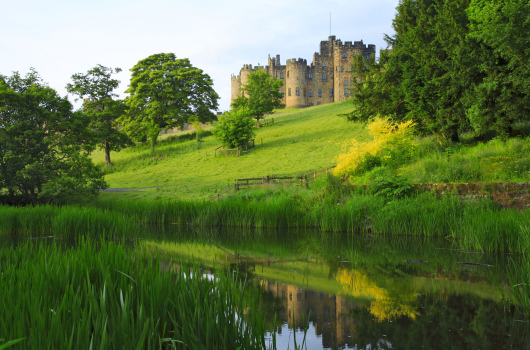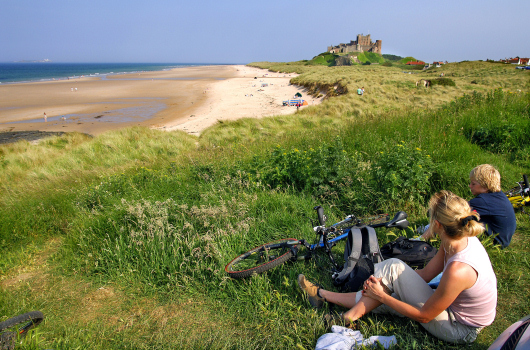 Outchester & Ross Holiday Cottages, Northumberland: Holiday Information
Skylark, Sandpiper, Oystercatcher Accessibility
Introduction
This is an access statement for Skylark Cottage, Sandpiper Cottage and Oystercatcher Cottage, terraced cottages at Ross Farm, Belford, Northumberland. NE70 7EN.
The three cottages are all similar in style and were built to identical specification.
Pre-Arrival
We have a comprehensive web site: www.rosscottages.co.uk
Bookings and enquiries can be made by telephone, fax, email or on-line.
John Sutherland
Ross Farm
Belford,
Northumberland
NE70 7EN
Tel: 01668 213336
On-line: via our website: www.rosscottages.co.uk
Information is available in large print if required.
The nearest railway station is Berwick upon Tweed which is 15 miles by road. It is on the main east coast line. Taxis are available from Berwick and there is a limited bus service. The nearest village is Belford which is three miles by road.
The nearest airport is Newcastle Upon Tyne which is 49 miles away by road. Car hire facilities are available at the airport.
Being set in a rural location, and some miles from the nearest village/small town, these cottages are not really suitable for guests without their own transport.
General
Each cottage has three bedrooms, a double & twin on the ground floor and a twin upstairs.
Arrival and Car Parking
Access is from the main A.1. road - two and a half miles away - a description of the route to Ross is enclosed with the booking confirmation. There is allocated parking for two cars beside each cottage. The car park is level with a good concrete surface. Cottage keys are collected from the Payphone building which is beside the car park - entry is by the keypad - the code is enclosed with the booking confirmation. There is one step 5cm high + 5cm thresh to gain access. The door has accessible width of 78cm. Keys are located on a board fixed to the wall, height 135cm. The board is located behind the inward opening door. Within the building there is a payphone located on a counter which is 95cm high.
There is an 18cm step up and 8cm thresh to the 74cm wide entrance door to the cottage. This opens into the kitchen/dining area from where another door, 80cm wide, opens into the garden with a step down of 18cm.
From the kitchen/dining area there are two 76cm wide doors, one opens into the sitting room and the other into a passage leading to the bathroom and a large hall with two 76cm wide doors, each for a bedroom, and the stairs which have 16 steps, each with 18cm rise, and a landing area where there is a 90 degree change of direction.
Sitting Room
The sitting room faces South. There is a sofa and occasional furniture with ample circulation space.
Kitchen/Dining
The kitchen/dining area offers a range of fitted units and appliances. The worktop is at a standard height of 89cm and there is ample circulation space. The flooring is wood effect laminate. There is a dining table with seating for six.
There is a washing machine and tumble drier with access from the kitchen.
Bedroom One
Access from the hall. King size double bed which is 67cm high. There is over 70cm free space on either side.
Bedroom Two
Access from the hall. Twin beds which are 66cm high.
Bedroom Three
Upstairs. Door 76cm wide. Twin beds which are 66cm high.
2 Bathrooms
Downstairs: Entrance door 71cm wide. Shower cubicle 70 x 115cm with 53cm entry
Upstairs : Entrance door 66cm wide. Bath 165cm.
Garden
There is a private lawned South-facing garden in front of the cottage, with a wicket gate leading to a large lawned area suitable for children's games. There is also a large sandpit with a "Sky-Castle" climbing frame.
Additional Information
An Information folder is provided which contains information on the property, appliances and tourist information.
There is adequate mobile phone reception and free Wi-Fi for your own laptop.